Building/Facilities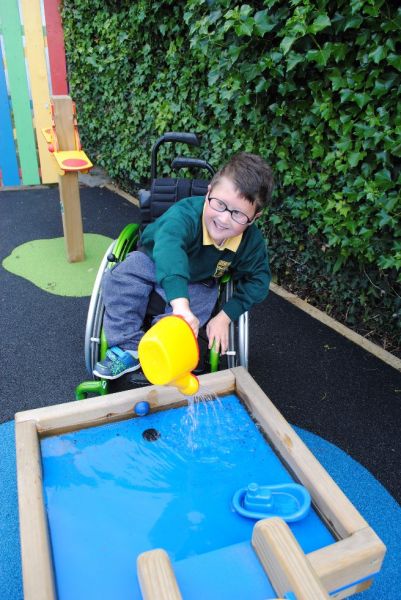 In 2013 Dromore Road underwent significant building extension works and a fabulous complete refurbishment of the school building was carried out. Our new school building consists of a fantastic general office, Principal's office, large staff room and four well equipped classrooms, each with an interactive white board installed. All the classes are also well resourced with ICT equipment and the pupils have access to laptops, ipads, digital cameras, webcams and a range of recording and programmable devices.
In the centre of the school is a resource area which is currently being utilised as a library and a multi-purpose room which is used for small group teaching, particularly by the Learning Support teacher and Reading Partners. In addition the school has a large multi-purpose hall which facilitates PE lessons, after school sports, dinners, assemblies and school productions and events.
Outside there are two tarmac playground areas, one of which is marked out for both netball and cycling proficiency. The children also have access to a wide variety of games and resources to play with during dinnertime.
In 2017, with the support of an Award For All grant, we developed our outside provision to create an outdoor play area and this area is currently utilised by the Foundation Stage classes and KS1 during structured play. Our outdoor provision was further enhanced in 2020, when a new playground was installed specifically for Upper KS1 and KS2. This has been a real asset in helping pupils focus on their health and well being.
The school also benefited again from an additional lottery grant in 2020. After community consultation, a joint application was made by our School and Eco Council to install a sensory Recobox for community use, in our eco garden. This application was successful and a RecoBox from Lars Play was installed in May 2020.
The school is actively involved in the Eco Schools Scheme and since its installation our new Recobox, with its habitat wall and green roof has been a real asset in attracting new plants and insects to our school grounds. It has also been invaluable in enhancing outdoor learning opportunities and has enabled us to provide a safe, supportive environment for pupils to access when outside.
Dromore Road Primary School, Upper Dromore Road,
Warrenpoint Co Down BT34 3JH
Phone: 028 4175 2656